St. Henry Suso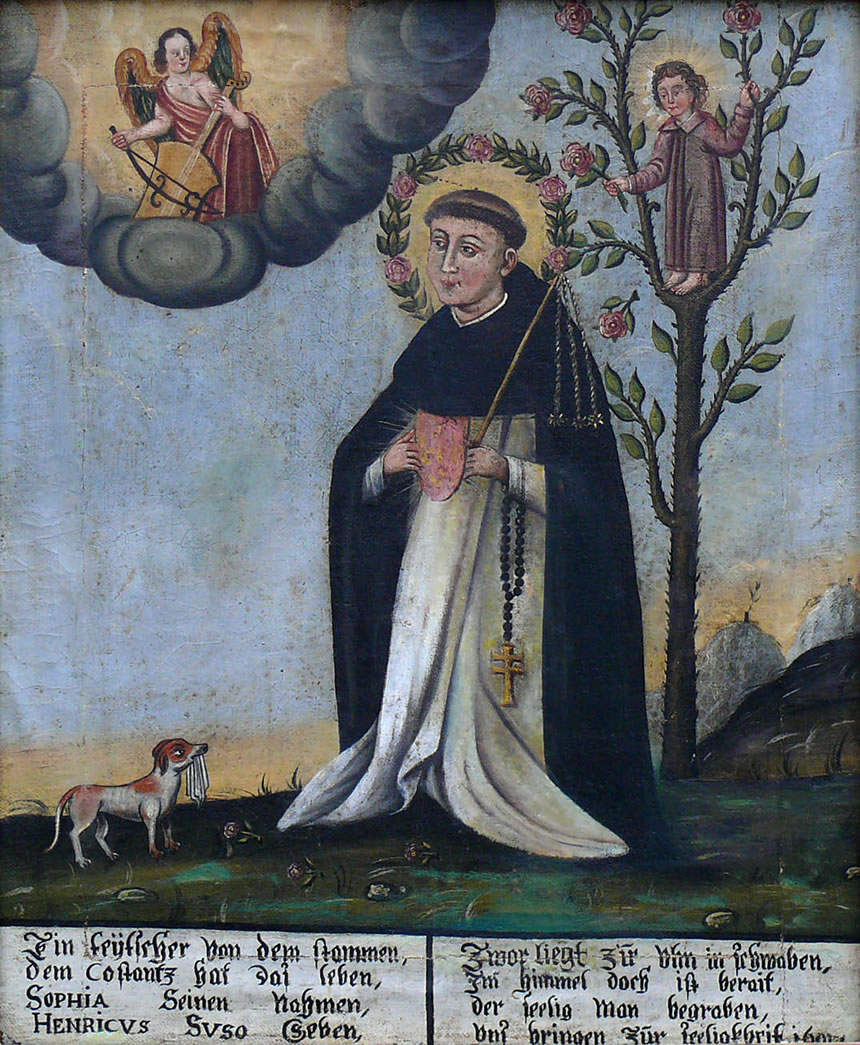 Born as Heinrich von Berg to a powerful family in Uberlingen, but later took the family name of his mother Sus out of devotion to her. He entered the novitiate of the Dominican order at the age of thirteen where he would eventually take his studies in philosophy and theology.
His religious life deepened and made himself "the Servant of Eternal Wisdom". Because of his deep love he experienced a mystical marriage with Christ in the form of the Goddess "Eternal Wisdom."
He would device painful devices he would use on himself, like a barbed girdle. He only took this off when an angel told him to do so. Sometimes he would sleep on an uncomfortable door or a cross with protruding needles and nails, instead of a bed. Although he later admitted that these were unnecessary distractions from the love of God.
In Cologne, he studied under the mystic named Meister Eckhart. When he went home to Constance, he was appointed Lector. He had grown a discipleship composed of both men and women, particularly in the Dominican Monastery of St. Katharinental. He also became friends with Elsbeth Stagel who was the prioress of the Dominican nuns in Toss, and who translated some of him Latin writings into German.
Suso lived a life of exile from Constance, together with the Dominican community sometime between 1339 and 1346. He moved to a monastery in Ulm two years later and is thought to have spent his remaining years there.
His life was that of prolific writing. He wrote the Little book of Truth, the Little Book of Eternal Wisdom, the Clock of Wisdom, letters that Stagel would compile in a work called Great Book of Letters. He also wrote about his spiritual life which is compiled as Life of the Servant. He also later made a compilation of revised works and letter into what is known as the Exemplar.
He was admired as a great preacher, especially in Switzerland, and the Netherlands where he attracted followers and became their spiritual director.
Joby finished Theology courses from the University of Notre Dame. He is a contributing writer at www.catholic365.com, and teaches in the De La Salle College of St. Benilde where he engages students in conversations about religion, pop-culture, and food.