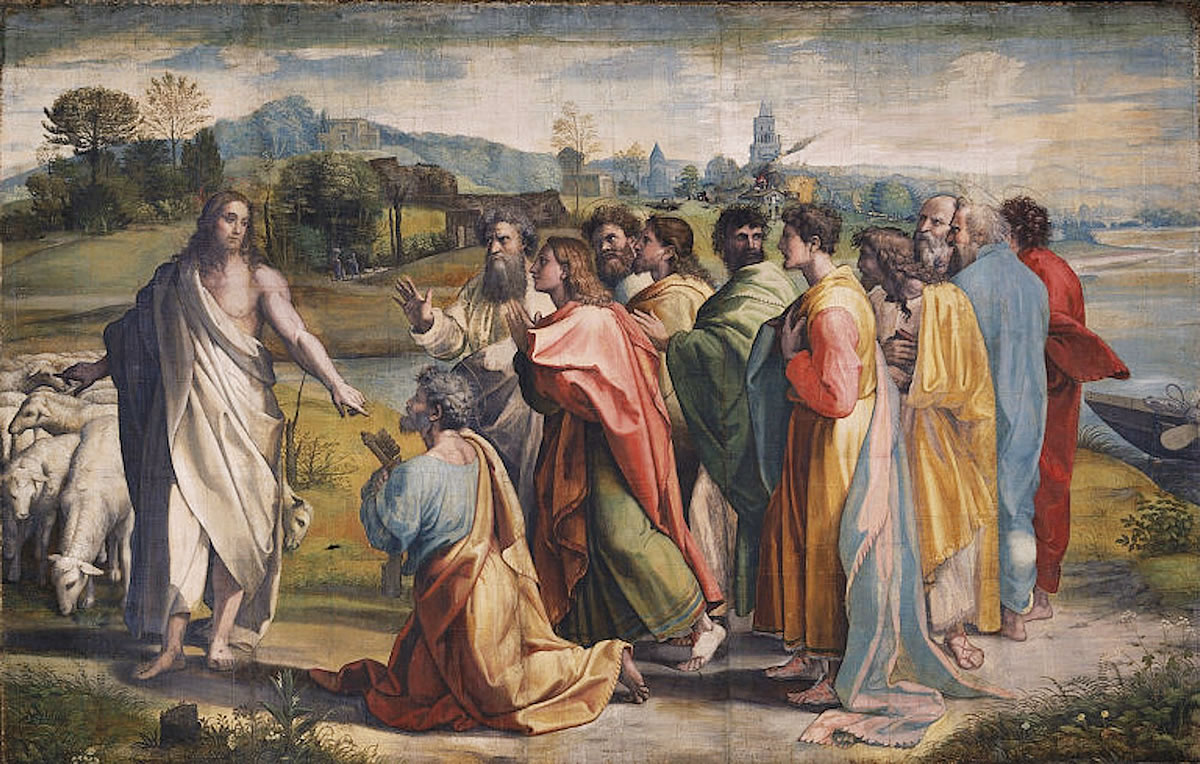 Handing over the Keys
The last chapter of John's Gospel is read in the liturgy over different days during the Easter season. The first part of the chapter is about the second miraculous catch of fish, while the second part is about the re-commissioning of Peter. When read separately, one might miss the connection between the two events. It is interesting that Raphael connects it for us through his paintings.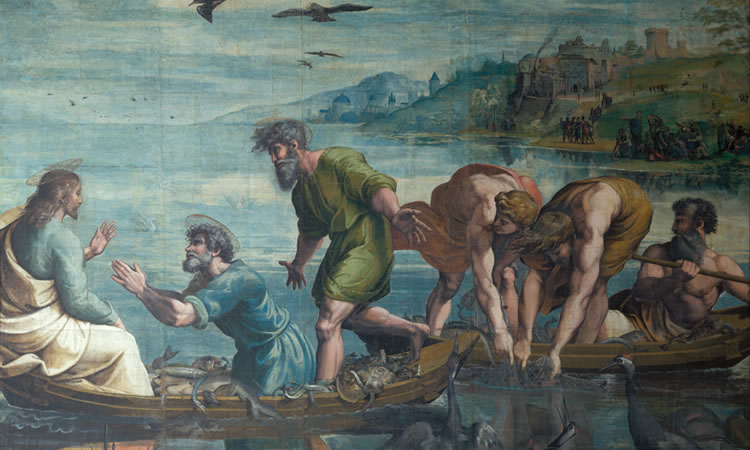 Miraculous Draught of Fish. Raphael
The painting called The Miraculous Draught of Fish (directly above this) shows the first miraculous catch of fish recorded by the Gospel of Luke. (Luke 5:1-11) In the painting, Christ is sitting, which is a position a teacher takes when giving lessons. Beside him is Peter who is kneeling in the boat telling Christ, "Depart from me, Lord, for I am a sinful man." This is because when Christ asked him to lower his nets after a night of fruitless fishing he begrudgingly did it. We cannot blame him for he is a fisherman and knows everything about fishing. What would a carpenter know? The painting catches the moment Peter realizes Jesus is much more than an ordinary person.
Peter continued to show this more-than-modest self-confidence when he presumed to know better than Christ. One example is when they were in Caesarea Philippi, Christ gave them the first indication that he will suffer in the hands of the high priests. Peter took him aside and said, "God forbid, Lord! No such thing shall ever happen to you." He got a rebuke as no other did. Another example is during the Last Supper when Christ washed Peter's feet. He said, "You will never wash my feet." And then when Christ said, "you shall have nothing of me then," Peter said, "Master, then not only my feet, but my hands and head as well." Christ corrected him and said there was no need. This is the character of Peter: bold, thinking before speaking, self-confident almost bordering on pride.
After the miraculous catch, Christ told Peter, "From now on, you will be catching men." Christ is giving them a mission – a commissioning – but he is directing his words to Peter.
In the second miraculous catch, Peter and the other apostles have come back from a night of unsuccessful fishing again. Christ, who chose that they wouldn't recognize him yet, told them to cast their net over the right side of the boat. This time, without question or argument, Peter does it and they get a miraculous catch. It is John who realizes the connection to the first miraculous catch and told Peter, "It is the Lord." Upon hearing this, Peter jumped into the water and made his way to the shore to where Christ was waiting for him.
Christ has been very gracious and patient with Peter. He corrected Peter when he made mistakes. He rebuked him when he said the wrong things. But Christ persisted in his love for this fisherman-from-nowhere. Christ's perseverance paid off because, in this third appearance of Christ to the apostles, Peter is docile. He is a broken man. He is a humble man. He is a changed man. When Our Lord, even unknown to him yet, asks him to cast his net, he does it without any reservations. He is ready to lead the Church, which is the connection to the second part of John's last chapter.
Interestingly, the Gospel writer would take note of what seems an insignificant detail: a charcoal fire on the shore. It isn't irrelevant at all when we realize that when Peter disowned Christ three times, it was by a charcoal fire. (John 18:18) So, when Christ asks Peter three times, "Do you love me?" he is giving Peter a chance to correct his denial, three times beside a charcoal fire.
What we see in this painting, is a symbolic representation of Peter's recommissioning. The connection between the two paintings is uncanny because the figure of Christ and Peter in both paintings are the same! The facial features and hair are exactly the same. It is as if the painter is telling the viewer, "these two paintings are related; one is a continuation of the other." In this painting, Peter is still kneeling in a position of humility. This time Christ is no longer sitting, but standing as a symbol of authority the way a general would give orders to his soldiers.
Each time Peter answered yes to Christ's question, "Do you love me?" Christ gave him a command: "Feed my sheep." Peter and the other disciples would have not missed the connection to Christ's Parable of the Good Shepherd. (John 10:1-21) In the parable, Christ said, "I am the good shepherd. I will lay down my life for the sheep." In the Parable of the Lost Sheep (Luke 15:1-7) a shepherd goes to find his lost sheep. After the crucifixion, it would have been clear to them that God the Son descended into the craggy crevices of humanity to find his lost sheep even if he has to die for it.
In the painting, we see the sheep that follow Christ as a symbolism of his Church. He is the Good Shepherd, and the Church is his sheepfold. We see in the hands of Peter the keys that were symbolically given to him when Christ said he would build his Church upon Simon, whom he renamed "rock." (Matthew 16:18)
We should not miss the fingers of Christ. On one hand, a finger points to Peter, and in the other, it points to the sheep. We can almost hear the voice of Christ in our ears, "You Peter, are now in charge of my flock."
We also should not miss that they are on land. In the original miraculous catch of fish, they are in a boat. The Gospel of Luke tells us that the crowd was pressing upon Christ, so he went aboard Peter's boat so he could teach them. (Luke 5) In this episode by John, they are no longer in the boat under lesson mode. Teaching time is over. They have graduated. They are now being sent out into the world to "catch men" and haul them into the boat of Peter – which is another metaphor for the Church.
That Peter is the caretaker of the Church has always been our Catholic Tradition. Christ promised that error will never enter the Church. It is through the pope's infallibility in doctrinal and moral matters this is done. Without a pope, we would argue about what doctrines are true and what are not. We would quickly devolve into fighting, splintering, and eventually fragmenting the Church. The pope is not just a symbol of the oneness of the Church, but the person who actually holds it together this way.
Throughout the ages, we have had good popes and scoundrels, but they have never changed what the Church has taught. If we believe for a moment that a pope is officially teaching heresy, then we also believe that Christ lied, and that cannot be true. Peter was not perfect, and we cannot expect perfect popes after him for Christ never promised impeccable popes – that would be impossible for we are all sinners. We have to love our pope, whoever he is, for Christ entrusts us, whom he loves dearly, under his care. The pope is the shepherd that Christ appointed to feeds us who are his sheep. Regardless of who is pope, and regardless of his popularity, his antics, his idiosyncrasies, we should see him as Peter, the rock that prevents the Church from being destroyed by the wind and rain and flood of error. (cf. Matthew 7:24-27)
Joby finished Theology courses from the University of Notre Dame. He is a contributing writer at www.catholic365.com, and teaches in the De La Salle College of St. Benilde where he engages students in conversations about religion, pop-culture, and food.